We all know the feeling of getting physically exhausted, but what is often overlooked is mental fatigue. The build-up of stress and over-thinking from work, study, and personal life can take its toll on your mental energy. That's where the best nootropics Australia can come in.
Thankfully, there's a superb class of supplements to help boost your brain energy, known as nootropics. Nootropics can help with anything from brain fog to memory, to focus, stress, wakefulness and more.
We've searched far and wide to find the very best nootropics Australia available to you.
After reviewing dozens of supplements, we believe that Mind Lab Pro is the best nootropic currently available on the market.
Visit Mind Lab Pro's Website here
Best Nootropics Australia in 2023.
They are:
1. Mind Lab Pro
2. Performance Lab Mind
3. Performance Lab Sleep
4. Nutropic Bars
Read on to learn why we chose these nootropics as our favourites.
First…
What is a Nootropic?
Nootropics are best described as "brain boosters". They encompass a huge variety of different compounds, including simple things like vitamins and minerals, as well as herbal extracts and even some synthetic substances. Most specifically, they're supplements which improve things like brain power, focus, memory, and reaction time.
Each individual ingredient usually only impacts one or two elements of brain function, but combinations of multiple ingredients can result in powerful synergistic effects.
How to Pick a Good Nootropic Supplement
There are a whole range of nootropic ingredients and combinations available, which can be tricky to choose from.
A good nootropic supplement will tick the following three boxes:
Effective ingredients
Good-quality forms
Safe to take
Making sure your supplement meets these requirements will ensure that you maximise the benefits, and eliminate any potential side effects. We've Taken all of the above into consideration when choosing our best nootropics Australia.
Natural Nootropics
Nature itself provides us with some of the best nootropic ingredients around, both in terms of safety and efficacy. Some of these include theanine, tyrosine, ginkgo, and bacopa monnieri – all well-known amino acids and herbs with amazing benefits.
A lot of these natural compounds are perfect for pairing with other ingredients for exceptional synergistic effects.
Take for example:
Bacopa monnieri + rhodiola rosea for reducing stress and fatigue
L-theanine + caffeine for clean, smooth, jitter-free energy
Citicoline as an addition to enhance effects from a variety of other ingredients.
The majority of nootropics that are naturally-occurring can be bought without a prescription, and are typically found in health and nutrition stores.
We're a big fan of natural nootropics as opposed to synthetic. So much so, that all of our recommended best nootropics Australia stacks for 2023 are natural. The best examples of natural nootropics that we've found include Mind Lab Pro and our second favourite nootropic, Performance Lab Mind.
BEST NOOTROPIC STACKS TO BUY in 2023
Now that you know what to look for in a safe and effective nootropic supplement, here are our top nootropic recommendations for 2023.
#1st Place: Mind Lab Pro
Mind Lab Pro is our top pick for nootropic supplements available in Australia. It combines safety, effectiveness, and superior quality for an all-round perfect nootropic product.
Each of its 11 ingredients is research-based, tried, tested and proven to work. What's more, it uses potent nootropics that work well in small doses, meaning every single one of them hits clinically effective dosage. It's a heck of an achievement; there's absolutely no filler in here. Just superior nootropics all the way.
We love the fact that all ingredients and dosages are disclosed — Mind Lab Pro stands against proprietary blends, a remarkable sign of confidence and pride in their product.
Mind Lab Pro's Formula
Mind Lab Pro includes substances to improve cognitive function and memory, reduce stress and fatigue, boost attention and focus, and to protect the brain against ageing. But perhaps its biggest advantage lies in the fact that it is a universal nootropic — one that can boost all aspects of brain function in pretty much everyone, and knows what you need on any given day. So if you're struggling with brain fog today, it will clear that for you. If you're having issues with focus tomorrow, it can tackle that too.
Mind Lab Pro works to strengthen and improve:
Brain chemistry — such as memory, motivation, mood, attention, and processing.
Brain energy — fighting brain fog, boosting focus, quick thinking and mental agility.
Brain circulation — sending more oxygen and nutrients to the brain, removing toxins.
Brain protection — helps to protect the brain in the longer term by tackling toxins and preventing damaging structural changes.
Brain regeneration — repairing and maintaining brain cells.
Alpha brain waves — encourages a wakeful calm which helps learning, productivity and creativity.
***** BUY NOW! BUY Mind Lab Pro *****
Let's a look at the ingredients of Mind Lab Pro in a little more detail…
The Ingredients
First, we must mention Citicoline, the workhorse ingredient in the Mind Lab Pro nootropic stack.
Citicoline, included here as patented form Cognizin, is a wonder substance that helps to energise and boost mental performance without the sort of crash you'd get from a stimulant.
It helps to increase the brain chemical phosphatidylcholine, important for optimal brain function. It has been shown in human research to help with memory, attention, concentration and focus, as well as mood. It may also protect against age-related mental decline.
Other ingredients in Mind Lab Pro include…
For Memory Improvement…
Vitamin B6, B9 and B12: Clinically proven B-vitamin stack shown to reduce harmful homocysteine.
Bacopa Monnieri: An antioxidant which improves blood circulation in the brain
Phosphatidylserine (from sunflower lecithin): Also boosts neuron formation.
Stress and Fatigue Reduction:
Rhodiola Rosea (pictured): An anti-fatigue herb, Rhodiola Rosea helps the brain to fight stress.
Phosphatidylserine: Combats stress in addition to its memory-boosting properties above.
Attention and Focus:
L-Theanine (pictured): A relaxing amino acid which improves focus while also boosting GABA production, encouraging a feeling of 'calm awakefulness'
N-Acetyl-L-Tyrosine (NALT): Improves attention span by increasing neurotransmitter production.
Cognitive Protection and Anti-Ageing:
Lion's Mane Mushroom (pictured): Prevents cognitive decline and regenerates neurons
Maritime Pine Bark Extract: supports brain circulation, brain antioxidant defences and promotes brain growth factor (BDNF)
Extra Marks For:
A well-thought-out formula which uses a large, synergistic selection of nootropic ingredients.
Who Is It For?
Mind Lab Pro is an incredibly flexible supplement: its universal benefits can be useful to students, professionals, athletes, competitors, older people, and more.
Thumbs Up for Quality:
Mind Lab Pro use excellent, clinically-effective doses for their ingredients – but they don't stop there. Wherever possible, they've made sure to include the premium forms of each ingredient, improving absorption and effectiveness. Examples of this include N-acetyl-l-tyrosine, a superior form of tyrosine for brain health; a super-potent form of bacopa monnieri; and Cognizin, a special patented form of citicoline.
What Makes it Unique:
It's an all-purpose nootropic which covers all bases for any day-to-day issues.
Best For:
All-round improvement for brain health and function. Mind Lab Pro can improve focus and memory, reduce stress and fatigue, and boost overall brain health. No matter your specific need, it most likely has something in it for you! It really is an excellent nootropic and one we're happy to recommend as our best nootropic Australia for 2023.
***** BUY NOW! Buy Mind Lab Pro, sold direct from the manufacturer *****
READ our Full Review on Mind Lab Pro
---
#2nd Place: Performance Lab Mind
Performance Lab Mind comes a very close second in our list of the Best Nootropics Australia for 2023. Just like Mind Lab Pro, it uses tried and tested ingredients, opting for proven nootropics that work instead of purely buzz-worthy options. In a market where effectiveness is often second to unscrupulous marketing, it's refreshing.
Performance Lab Mind uses a trimmed back version of some of the same ingredients as Mind Lab Pro, making it a great starter nootropic stack. The reason for this is clear when you consider the Performance Lab range as a whole. The range currently has 12 different supplements — everything from a quality multivitamin to supplements for energy, vision, joints, sleep, and more.
Each product is designed to be SAFELY used with any other product in the range, allowing you to create your own supplement stacks. It creates a highly flexible range that we can't help but love!
Performance Lab Mind, therefore, stands as a base nootropic stack which you can build upon if you want. That said, it is more than strong enough to stand on its own.
***** BUY NOW! Buy Performance Lab Mind *****
The Performance Lab Mind Formula
Performance Lab uses just four ingredients, but they are some of the most powerful nootropics around — Cognizin (citicoline), L-tyrosine, Phosphatidylserine, and Maritime Pine Bark extract.
It pledges to:
Upgrade memory, processing speed, focus and motivation
Improve brain energy (shown to do so by up to 13.6%)
Help the brain recover from mental stress and intense exertion, such as burnout and overwork.
Support brain health over the longer term by supporting brain regeneration.
Let's look at those ingredients in a bit more detail…
Citicoline
Again in the premium form of Cognizin, citicoline helps to provide the brain with energy — particularly important since the brain needs constant renewal of energy due to its high usage. Research shows Cognizin helps to boost brain energy by 13%.
As well as boosting mental energy, Cognizin helps to hone focus, strengthen memory and improve concentration.
Phosphatidylserine
Up to 15% of the body's total quantity of fat-like substance Phosphatidylserine (PS) is found in the brain, forming the majority of the brain's structure. PS is crucial for long term brain health, helping to repair neurons, keep brain cells healthy and create new ones, plus acts as the building block for brain plasticity — in essence, the neural network that helps us to learn. It is also influential in effecting the neurotransmitters serotonin, acetylcholine, norepinephrine, and dopamine. Finally, it should be noted that the brain's PS levels begin to fall after the age of 30, potentially one reason for age-related cognitive decline. Supplementing PS, therefore, can be extremely helpful.
Ajipure L-Tyrosine
Here's one area where Performance Lab Mind's smaller number of ingredients pays dividends… you have room for more L-Tyrosine. This is an important amino acid which helps boost mood and memory, as well as aiding performance when you're suffering from stress, sleep deprivation or overwork. This is thanks to its ability to encourage the production of the neurotransmitters dopamine, epinephrine, and norepinephrine. Brain fog, for instance, has been associated with low L-tyrosine.
Maritime Pine Bark Extract
Maritime Pine Bark is a relative newcomer to the nootropic field but has an important triple function in the brain. It is full of antioxidants which can pass the blood-brain barrier and neutralise free radicals which could otherwise damage the brain. This process simultaneously encourages the release of nitric oxide (NO), which widens blood vessels, boosts blood flow to the brain and provides it with more nutrients, glucose and oxygen for energy. This then helps you to learn, focus and have enough mental energy to keep going. Finally, maritime pine bark may also help to reverse age-related cognitive decline.
Extra Marks For…
Being an incredibly clean formula. Performance Lab Mind is:
Vegan-friendly
GMO-free
Free of soy, gluten and other allergens
Caffeine-free
Non-irradiated
Tested for banned substances
Certified GMP.
What Makes It Unique…
Performance Lab Mind is an excellent base nootropic stack. It's powerful enough to count in its own right, but it also gives you the option to SAFELY combine it with any other product in the Performance Lab range. Meaning that you can address whatever your own personal health issues or concerns might be.
Want to boost your mind and cover your nutritional bases? Then try:
Performance Lab Mind + Performance Lab NutriGenesis Multi — the ideal multivitamin for men or women.
Want to strengthen your physical and mental energy at the same time? Then try:
Performance Lab Mind + Performance Lab Energy
We really like how flexible this whole range is, and Performance Lab Mind makes a great base stack — with some significant benefits all of its own — from which to build upon.
Best For:
Performance Lab Mind is an ideal nootropic for when you need a stim-free mental boost of energy for mental clarity and improved cognitive performance, and you don't want to risk a crash that comes with stimulants such as coffee. And bonus, it nourishes and protects the brain in the long-term too.
***** BUY NOW! Buy Performance Lab Mind, direct from the manufacturer *****
PERFORMANCE LAB MIND ALSO STACKS WELL WITH…
Performance Lab Caffeine Plus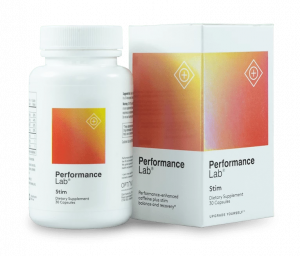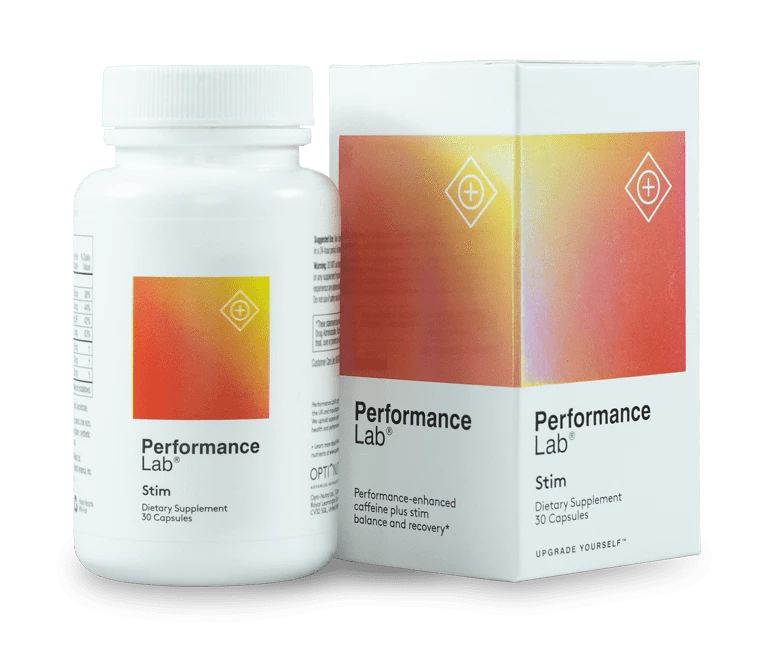 Perfect for those days when you need a little more of a pick me up, Performance Lab Caffeine Plus is a crash-free caffeine pill. While technically not a nootropic, caffeine can give a great physical and mental boost, but most caffeine pills on the market are just all about shock and awe.
They cram in far too much caffeine that you don't need and don't care about the fact that you'll crash heavily afterwards.
Performance Lab Caffeine Plus is the opposite: it's a crash-free, gentle dose of caffeine with 50mg of natural caffeine per capsule. The beauty of the gentle dose is that it gives you the choice to double or triple your dose should you want a stronger kick. It's your choice, day by day; you are in the driving seat.
Here's another great thing about Performance Lab Caffeine Plus: it's made with your health and safety in mind. What does that mean? It means that it includes additional ingredients to ensure you don't experience side effects from the caffeine. They include:
L-theanine, to make smart caffeine. L-theanine helps to reduce the side effects associated with caffeine such as anxiety, jitters and headaches while also boosting its benefits — more energy, increased awareness and enhanced focus.
L-tyrosine also combines well with caffeine. Caffeine reduces catecholamine levels which negatively affects mental performance; L-tyrosine helps to restore those levels. The recovery element within Performance Lab Caffeine Plus, L-tyrosine can also help to reduce stress and help you concentrate better.
Finally, the B vitamins B6, B9 and B12, also in this formula, help to support and replenish the neurotransmitters dopamine, adrenaline and norepinephrine, typically depleted when ingesting caffeine. Vitamin B2, also included, helps to boost energy, also helping to avoid a post-caffeine crash.
Performance Lab Caffeine Plus can be safely used alongside Performance Lab Mind, giving you a strong daily nootropic along with an extra mental energy kick whenever you need it.
***** BUY NOW! Buy Performance Lab Caffeine Plus*****
ALSO STACKS WELL WITH:
Performance Lab MCT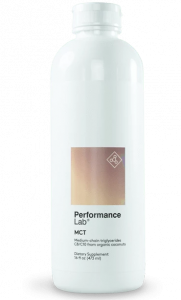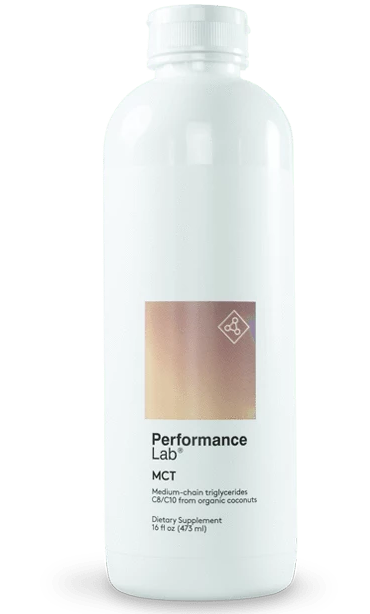 MCTs, Medium-Chain Triglycerides, are a clean energy source for the brain, commonly part of a keto diet. MCTs are converted easily into ketones that can cross the blood-brain barrier and act as fuel for the brain.
While MCTs aren't technically nootropics, ketones are. They boost mitochondria efficiency and help to neutralise free radicals in the brain. MCTs are also associated with fat loss and appetite control.
Performance Lab MCT offers the MCTs C8 and C10, recognised as the most beneficial MCTs. It is also one of the cleanest MCT produts around, with no other fillers or ingredients.
***** BUY NOW! Performance Lab MCT *****
---
# 3rd Place: Performance Lab Sleep
Here's a nootropic supplement you may not have thought about before: a sleep supplement perfect for use alongside either Performance Lab Mind or Mind Lab Pro. Why a sleep supplement? Because it allows you to support your brain day and night!
Our brains achieve so much while we sleep. If you thought sleep was just for rejuvenating our body, you're very much mistaken. Did you know, for instance, that when we're asleep, the neurons in our brain fire almost as much as they do when we're awake?
While we sleep, our brain:
Clears waste and damaging toxins from the brain that could otherwise cause neuro-degeneration.
Supports memory and learning.
Learns and stores the memory of how to do physical tasks, such as driving, dancing, or playing a sport.
Regulates mood
Regulates appetite
Regulates libido
That's not all. Our brains even make decisions when we sleep, processing complex stimuli and using it to make decisions when we're awake. It also forms new memories, consolidates older memories, and links earlier memories together with new ones. Quality sleep also allows the brain to form new connections that foster creativity.
So, it stands to reason that any interruption in this much-needed quality sleep can impact your cognitive function and damage your learning. Taking a natural sleep supplement like Performance Lab Sleep, therefore, can be considered a nootropic because it helps support and develop the brain, just as much as it helps you to sleep.
***** BUY NOW! Buy Performance Lab Sleep *****
How Does Performance Lab Sleep Work?
Performance Lab Sleep helps to improve the quality of your sleep and boost your brainpower by:
Soothing the nervous system ahead of sleep
Stimulating the sleep chemicals — melatonin and serotonin — giving you a tranquil sleep
Optimising sleep and circadian rhythms
Reducing muscle and joint discomfort, preventing spasms, aches, and involuntary limb movement that can jerk you awake
Encouraging cell renewal as you sleep so that you can feel rejuvenated on waking.
The Ingredients in Performance Lab Sleep
Here's where Performance Lab Sleep shines. It only has three ingredients, but they are carefully chosen to work incredibly well together AND includes a rich natural source of melatonin.
Montmorency Tart Cherry
Montmorency tart cherry is the richest form of natural melatonin you can find. Many sleep aids opt for high doses of synthetic melatonin only – that's what accounts for the grogginess you often feel the next morning. Performance Lab Sleep, in contrast, offers a low dose of natural melatonin – enough to help you sleep but still wake up feeling revitalized and refreshed the next morning.
Melatonin, of course, is known as the 'sleep hormone'. It's released by the body in the dark hours, preparing you for sleep. There are lots of things that can interfere with this melatonin, however – blue light from laptops and telephones being a big one.
Supplementing with melatonin, therefore, can help to strengthen your sleep and wake cycles, encourage faster sleep, and maintain healthy sleep patterns.
A 2012 Northumbria University study into tart cherry juice said that: 'consumption of a tart cherry juice concentrate provides an increase in exogenous melatonin that is beneficial in improving sleep duration and quality in healthy men and women and might be of benefit in managing disturbed sleep.'
The sour Montmorency cherries are also packed full of nutrients and antioxidants, helping to tackle inflammation and ease muscles and joints to encourage better sleep.
L-Tryptophan
This sleep-inducing amino acid is why your mum encouraged you to drink milk before bed when you were a child – it contains l-tryptophan. As adults, however, we may not be quite so enamoured with milk before bed, so Performance Lab Sleep contains a generous dosage of l-tryptophan too.
This works with the Montmorency tart cherry to raise serotonin levels—good for relaxation – which then, in turn, encourages the pineal gland to create more of your own natural melatonin. Offers calm sedation before bed, with a brighter mood in the day.
Magnesium
Magnesium deficiency has been linked to chronic insomnia and frequent waking in the night. Magnesium supplementation helps sleep by calming the nerves, soothing the muscles, preventing twitches and involuntary limb movements, and supporting the slow fall in blood pressure that comes before sleep.
Magnesium also helps to convert the l-tryptophan in Performance Lab Sleep into serotonin.
What Makes It Unique…
Performance Lab Sleep's commitment to low dose natural melatonin via Montmorency tart cherry makes it a unique sleep aid – one that can give you a great night's sleep without the grogginess the next morning. Allowing you to wake up revitalised and ready for the day.
Extra Marks For
Like all other Performance Lab products, Performance Lab Sleep is an exceptionally clean supplement. It's:
100% vegan friendly
GMO, gluten, soy, and allergen-free
Banned substance tested
Non-irradiated
GMP certified
Best For
Anyone who struggles with restful sleep and wants a boost of melatonin – natural only – that doesn't leave you feeling groggy in the morning. Stacks safely with Performance Lab Mind or Mind Lab Pro to offer a complete day and night nootropic pairing.
***** BUY NOW! Buy Performance Lab Sleep *****
#4th Place: Nutropic Bars
Nutropic snack bars were released in August 2022 and they're a little different. They pledge to help you 'live smarter' by eating a bar a day – an option for those people who don't like taking pills, perhaps. The bars come in four flavours (all of them tasty, though the Salted Caramel was my favourite) and have the texture of a flapjack.
Shortcut: Editor's note – these do work, and work fast. I noticed a significant improvement in focus after just one bar. Our testers too.
As well as offering a short-term boost to focus and quick thinking, Nutropic Bars also pledge to support longer-term brain health as well as enhance memory.
They do so by including tried, tested, and proven nootropic ingredients – in decent dosages – such as complex carbs (provides brain energy), DHA Omega-3, Choline, Phosphatidylserine, and vitamins/minerals. Many of which you'll find in the nootropic stacks above.
The bars contain less than 200 calories a bar and we definitely recommend them as a quick pick-me-up on a busy day.
<< BUY Nutropic Bars >>